Class Description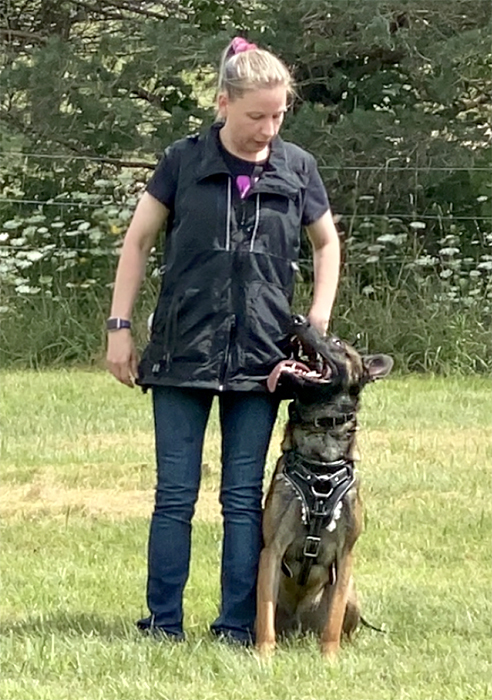 Advanced Obedience is made to cater to those coming out of Core Manners, as well as challenge those that already have off-leash skills. 
This is a must-take class for both pet and show enthusiasts alike!
We will focus on recalls, call-offs, and command execution under STRONG DISTRACTIONS!
Can your dog function through external visual and auditory distractions? What if YOU had those distractions on your body?! What about remaining mannerly while you play a physical game, like basketball?!
THIS CLASS IS PHYSICAL. Handlers should expect to be moving the entire class, including short bursts of cardio activity.
Included in this class
Weekly class lessons and goals to keep you & your dog on track!
Thousands of original photos available for free download, to document your journey with your beloved dog!
Access to our online library!
Gain access to Private Training options, reserved only for current class participants!
Graduation photos, including a digital frame option!
Testimonials
"I have owned and trained German Shepherds for over 25 years. Barbara at The Thinking K9 is without a doubt the best trainer I have ever come across in those 25 years. We recently took the STARLET and STAR classes puppy classes at The Thinking K9 for our new Shepherd puppy and the Precision Rally Obedience class for our older Shepherd. Barbara's classes are interactive, organized, very personable, and just plain fun. She invests a significant amount of time, effort, and money into all the things necessary to make her classes great (like an unbelievable amount of equipment!). If you live in Janesville or the surrounding area, I highly recommend The Thinking K9 for your dog training needs!"
~ Matthew Jones
"Rarely in life do you cross paths with someone that both loves and lives what they do! And it's evident here at The Thinking K9. Barb is a phenomenal dog trainer that keeps up with current techniques, works with you and your dog through all challenges and gives back to the community in many ways. She is both devoted, kind and lives this mission. We are so grateful and blessed to be her students. Thank you. You will always have our infinite praise! (Which is the way it should be here at the Thinking K9!)."
~ Love, Deb, Chris, Fiona and Ice
Barbara Smith is PHENOMENAL! She has a tremendous knowledge base from which she draws upon for the greatest success of each dog and dog owner in her classes. She is a great motivator during the training sessions and her training techniques helped me turn a VERY active chocolate lab into an amazing well behaved companion that is responsive to my commands and I can comfortably take anywhere.
I HIGHLY recommend Barbara Smith at "The Thinking K9" for best results and success with your dog.
Barbara is genuine, honest, intelligent, and makes you feel like you and your dog are important and valued."
~ Jeff Sorensen
Prerequisites
Dogs 6-months old and up.
Core Manners graduate or CGC title*
No aggression.
Dog Reactive dogs (lunging at other dogs while uncontrollably growling/barking) must be approved by the instructor before joining.
* Dog can do the following under moderate distractions: 20' stay, 20' recall, & 40' loose leash walking. Dog should also be able to leash walk (with their handler) passed another dog on a leash 2' away, without crossing over to the other dog.
Location
TTK9 Training Center located at:
924 N. Parker Dr.
Janesville, WI 53545
[Map]