This class opens 2-3 weeks before sessions begin. Get on the waitlist NOW to get notified when the spots are released to the public.
Spots go within hours, sometimes minutes! When you're notified of an opening, click-through quickly!

SMALL CLASSES! Don't delay!
For the benefit of all participants, we keep our classes small by capping classes at 6:1 student-teacher ratio. Classes fill up quickly! Reserve your spot now!
What is S.T.A.R. Puppy?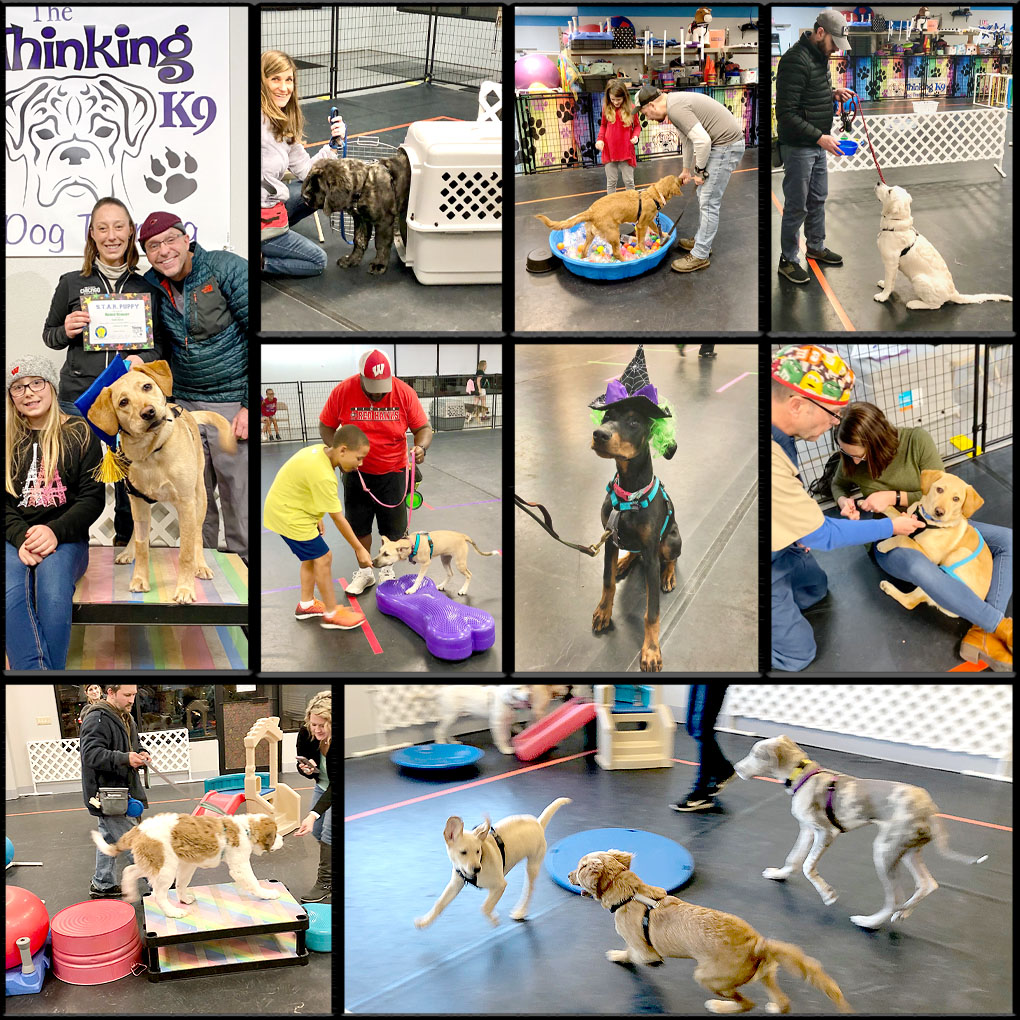 Prepare your puppies for Canine Good Citizen class with S.T.A.R. Puppy! This class includes the S.T.A.R. Puppy Curriculum (outlined at the bottom of this page), including Owner Responsibilities, Puppy Behaviors, and Pre-Canine Good Citizen Test Behaviors, as well as additional confidence-building and obedience. S.T.A.R. Puppy is for 4-6-month-old puppies. Start your puppy off on the right "paw"-- sign up now!
Click the collage to see it larger!
S.T.A.R. Puppy Curriculum
Class topics include, but are not limited to the following:
We leap off of the foundation from Starlet and make it age-appropriately harder!
Rocket recalls (coming when called, the FIRST time!)
Handling exercises that prepare your dogs for veterinary care, emergency treatments, and general handling.
Nail trims- We trim nails RIGHT IN CLASS!
Obedience not limited to heeling/sits/downs/stays, etc.
Environmental socialization.
Barking preventatives & management.
Teaching an off switch with condition relaxation techniques.
Mouthing.
Crate Training, including crate GAMES IN CLASS with crates for EVERYONE, no waiting for other teams!
Preventative care to avoid separation anxiety, dog-dog reactivity (barking & lunging at other dogs), resource guarding, aggression, & more.
Integrating and managing puppies in multi-dog, cat, and child households.
A FREE online library with FULL-LENGTH 100+pg books!
Weekly emails with topics included in class and beyond!
And SO MUCH MORE!
Additional STAR topics include:
S.T.A.R. Puppy stands for:
✰ Socialization
✰ Training
✰ Activity
✰ Responsibility
This class covers the following, and so much more!
Owner Behaviors:
Maintains puppy's health (vaccines, exams, appears healthy)
Owner receives Responsible Dog Owner's Pledge
Owner describes adequate daily play and exercise plan
Owner and puppy attend at least 6 classes by an AKC Approved CGC Evaluator
Owner brings bags to classes for cleaning up after puppy
Owner has obtained some form of ID for puppy-collar tag, etc.

Puppy Behaviors:
Free of aggression toward people during at least 6 weeks of class
Free of aggression toward other puppies in class
Tolerates collar or body harness of owner's choice
Owner can hug or hold puppy (depending on size)
Puppy allows owner to take away a treat or toy

Pre-Canine Good Citizen® Test Behaviors:
Allows (in any position) petting by a person other than the owner
Grooming-Allows owner handling and brief exam (ears, feet)
Walks on a Leash-Follows owner on lead in a straight line (15 steps)
Walks by other people-Walks on leash past other people 5-ft away
Sits on command-Owner may use a food lure
Down on command-Owner may use a food lure
Comes to owner from 5-ft when name is called
Reaction to Distractions-distractions are presented 15-ft away
Stay on leash with another person (owner walks 10 steps and returns)
Prerequisites
Puppy must be between 17 weeks and 7 months on the day class starts.
Registration
Cost for FULL 7-week session
Non-Members: $329
VIP Club Members: $309
VIP's SAVE $20!
Schedule

7-week session broken down as follows. PAY ATTENTION TO TIMES:
Week 1: *Mandatory* Orientation at 6pm for 3hours, without dogs.
Week 2-7: weekly 60-minute classes at 7:15pm, with dogs.
Pre-registration is required.
*THIS CLASS OPENS TO THE WAITLIST FIRST*
We hold back spots for our Starlet move-ups, then the remainder of the spots will open to the WAITLIST roughly 2 weeks before the class is scheduled to start. Get on the WAITLIST to receive an immediate notification when the class is opened to the public!


OH NO! IF there's only a waitlist, now what?
Get on the waitlist for the class you wish to attend. * Waitlist doesn't guarantee a spot.
Register for future classes, such as S.T.A.R. Puppy and Manners.
Book an Evaluation to get into Enrichment Hour! This will fill your puppy's critical needs during their socialization period and increase your chances at getting into a class!
Location
TTK9 Training Center located at:
924 N. Parker Dr.
Janesville, WI 53545
[Map]